GET FiT Zambia hosted a panel discussion at the African Energy Forum (AEF) the global investment meeting for Africa's power, energy & infrastructure sectors, which was this held 11-14 June 2019, in Lisbon.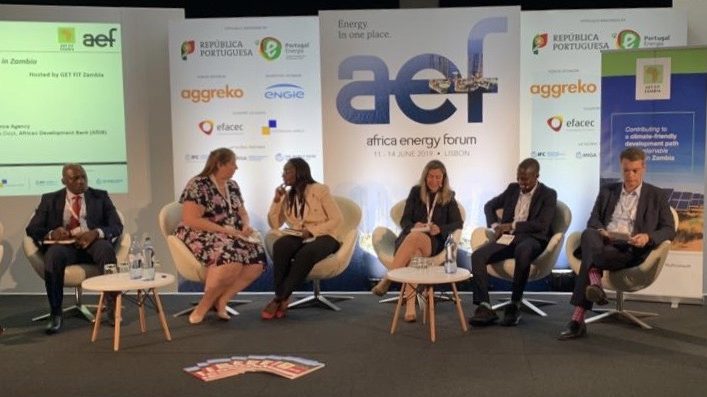 The panel session on Realising Renewable Investments in Zambia covered a range of topics including the current state of the power sector in Zambia, the outcome of the record-breaking GET FiT solar tender and the challenging path ahead to execute the solar projects. The session was moderated by GET FiT Zambia Director, Ms, Judith Raphael and panellists included Dr Jan Martin Witte, outgoing Director- KfW Pretoria, Mr. Owen Silavwe, Managing Director – Copperbelt Energy Corporation, Ms. Ashley King, Environment and Natural Resource Officer- Power Africa, Mrs. Aida Ngom, Acting Director, Energy Financial Solutions- African Development Bank, Mr. Samuel Obbie Banda, Underwriter- African Trade Insurance Agency and Ms. Maite Pina, Senior Investment Officer -FMO.
The panellists provided their insights as to key issues that need to be addressed in the sector, as well as offered advice as to achieving financial close on the GET FiT solar projects. These discussions drew upon the country- and transaction-experience of the distinguished panel. It was clear that Zambia is an interesting market when it comes to renewables, however, while developers are committed to realizing the projects, lenders remain concerned about the sector sustainability and wish for key fundamentals to be addressed to ensure successful outcome the projects.
On the one hand, the GET FiT approach, including the development of bankable standardized project agreements, continues to receive praise from sector actors. On the other hand, the session confirmed the Secretariat's expectation that achieving financial close and realizing the 120MWac of approved solar projects in a timely manner will undoubtedly be challenging and will require dedicated efforts from all stakeholders, particularly the Government of Zambia.